Etwas ausserhalb von New York haben wir die Gallery 66 NY entdeckt. Hier haben schon viele unserer Künstlerfreude ausgestellt und auch Arbeiten von MASCH und mir wurden hier schon gezeigt. Deshalb möchten ich Dir diese Gallery, geführt von der bezaubernden Barbara Galazzo, gerne vorstellen und die spannende Ausstellung "That's Rubbish", die wir dort erleben durften. 
Gallery 66 NY is dedicated to exhibiting the work of gifted and experienced artists. Although the primary focus is the art of the Hudson Valley – as represented both by well-established artists and talented newcomers – the gallery believes in inviting artists from outside the area to bring added exposure to the local artists and to Cold Spring.
In addition to the presentation of fine works of art, Gallery 66 NY hosts performance, and interactive art events. It strives to work in collaboration and cooperation with the immediate community and school system through exhibits and events. It sees it as a mission to build a vital link between the gallery and the community, and to this end, Gallery 66 NY encourages an active and creative exchange between visitors, the artists and performers.
In May 2015, the gallery exhibits works formed from found or recycled objects. "That's Rubbish"
Carla Goldberg
"It's All About The River"
This installation is made from crushed light bulb glass destined for the trash from changing our lighting to energy efficient bulbs, scraps of tissue paper from Hanukkah presents, an end roll of paper from a company making paper holiday napkins, a moth found on a window sill and over-pours of resin from the process of making my artwork. These are things we usually give no further thought to and tossed away as part of the regular flow of the detritus of 21st century life. I see the world differently. What's one person's rubbish is another's goldmine. Trash can have elements of real beauty in it if you look at it as free materials to create with.
Carol Flaitz
"Great Expectations"
Getting into college is not easy.  One of the hurdles that a student has to jump is the SAT test.  The score of which can determine a students future.  Publishers know this and publish huge manuals to help out students yearly.  But the following year the manual is nothing but rubbish.  This installation is created solely from an SAT publication for test preparation.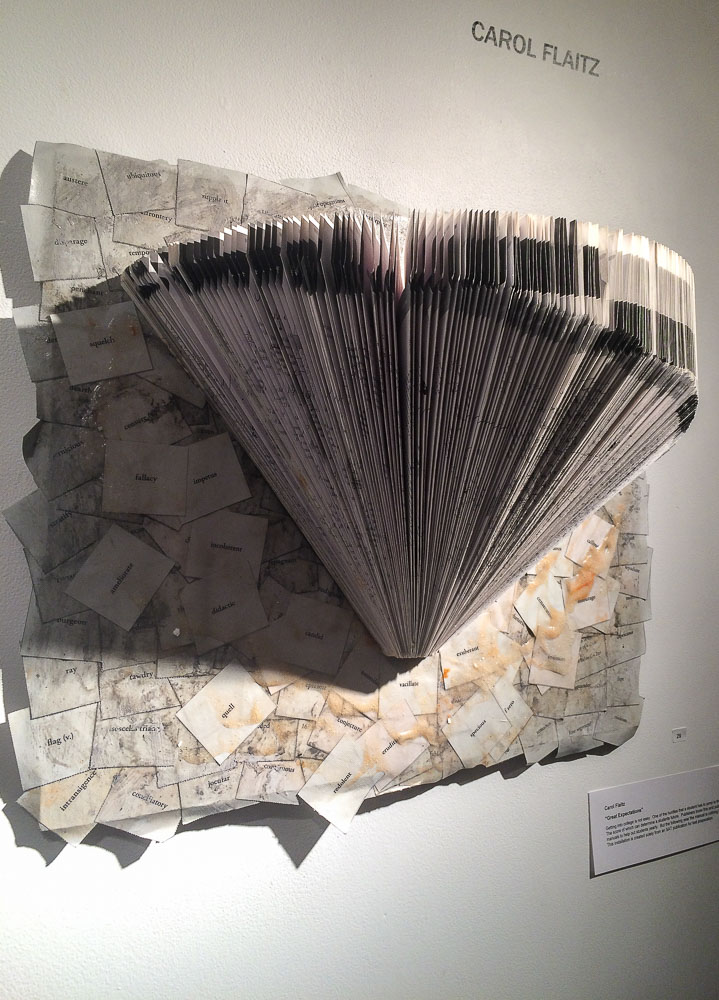 Barbara Galazzo
"Metamorphicist"
Millions of soda cans are thrown in the trash each day.  This idea was used as inspiration to create something beautiful from what would otherwise become rubbish.  The driftwood here is from the Cold Spring Hudson River and the butterflies are transformed from various soda can.  Each one cut with tin snips.  The transformation of the butterfly from a soda can parallels its metamorphisis from the cocoon.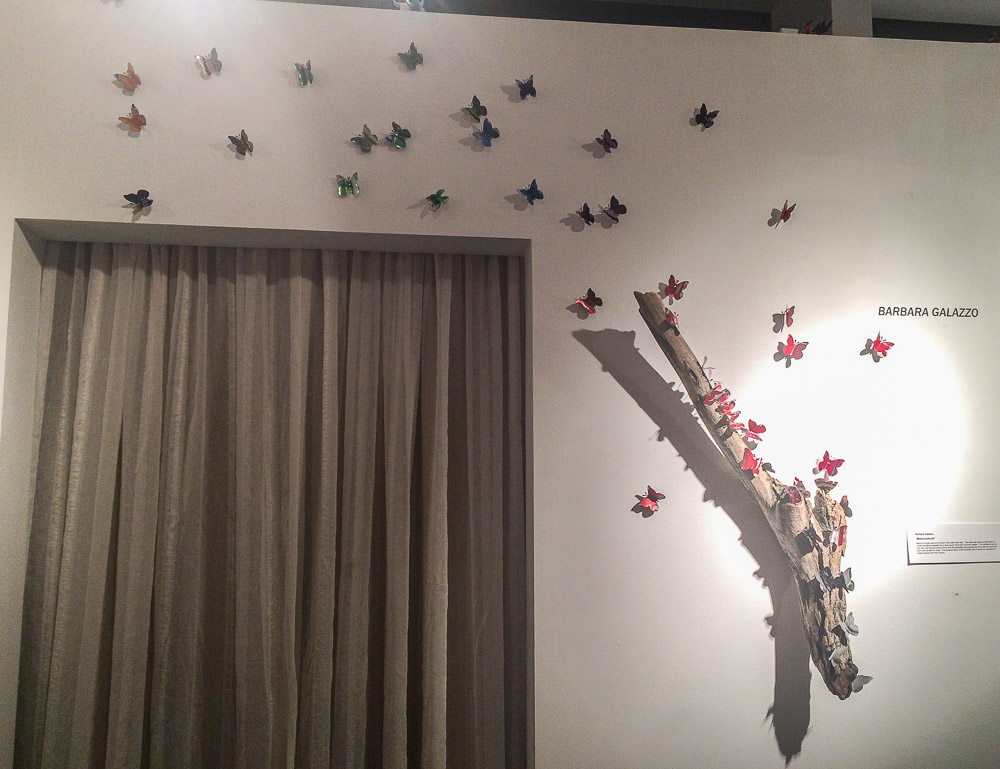 Leslie Fandrich
"She Seems So Cool"
I frequently use fabric patterns in my collages and I thought it would be interesting to cover a female mannequin in them as well. I use these items as a way to examine the roles that women play in our society. I asked around and an artist friend of mine had a bunch of used mannequins in her attic. This one was missing an arm and legs and covered in paper from an earlier project that high school students had done. The text that I added is from a collection of short stories by Neil Gaiman called "Fragile Things". All the quotes reference how strong many fragile things actually are, like eggs and hearts and dreams. The title of the piece is taken from the quote that appears on her forehead, "She seems so cool, so focused, so quiet, yet her eyes remain fixed upon the horizon." I believe women are often viewed as fragile things, but women are some of the strongest humans that I know. True strength comes from the heart.
"Connected All Along I, II and III"
I found these wooden spools at a garage sale a few years ago and was drawn to the type on the labels and the rich history that they have as tools for "women's work." I played around with them for a few weeks, arranging them in different ways until I remembered I had these fence boards from my great grandparent's farm in Alberta, Canada. The farm has long been abandoned and is now sold and these pieces of wood are a way for me to connect with my family's history. I used roofing nails to attach the spools to the boards and the act of hammering dislodged dried mud from the cracks in the wood. The linen thread ties it all together and forms a network of connections and patterns, just like our families and our lives.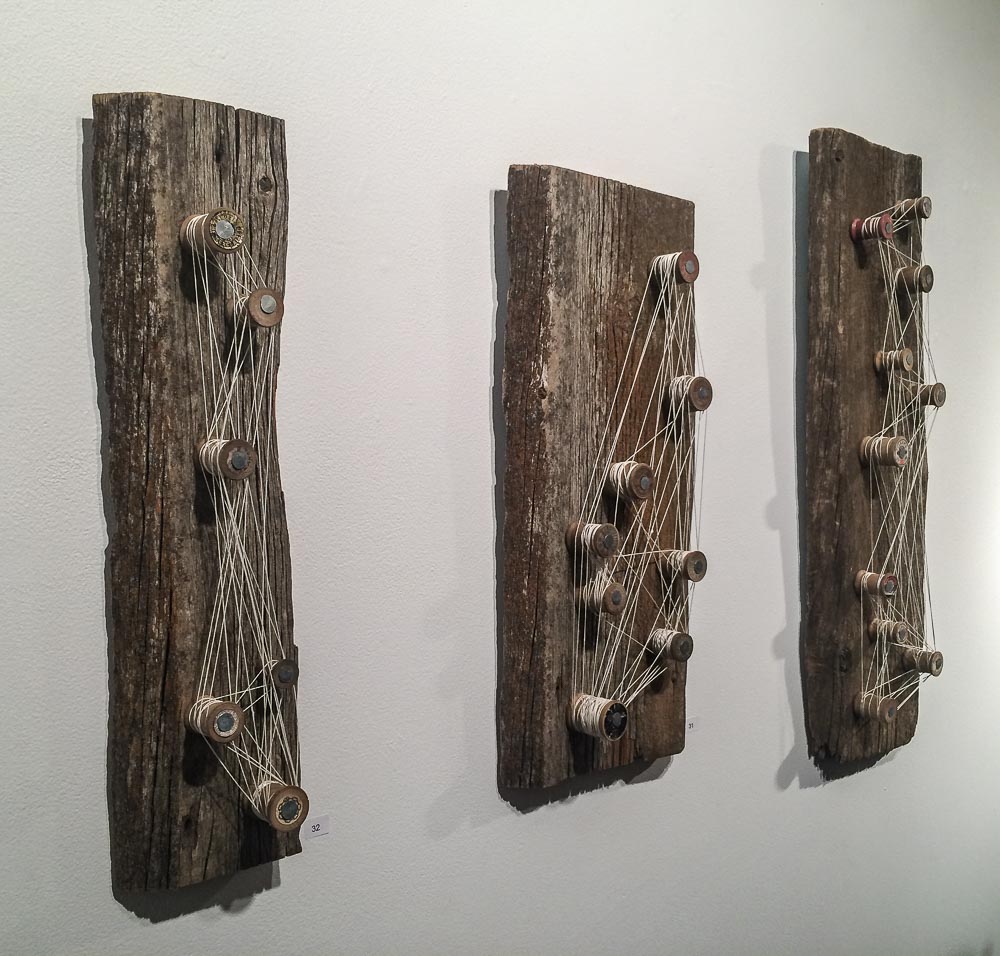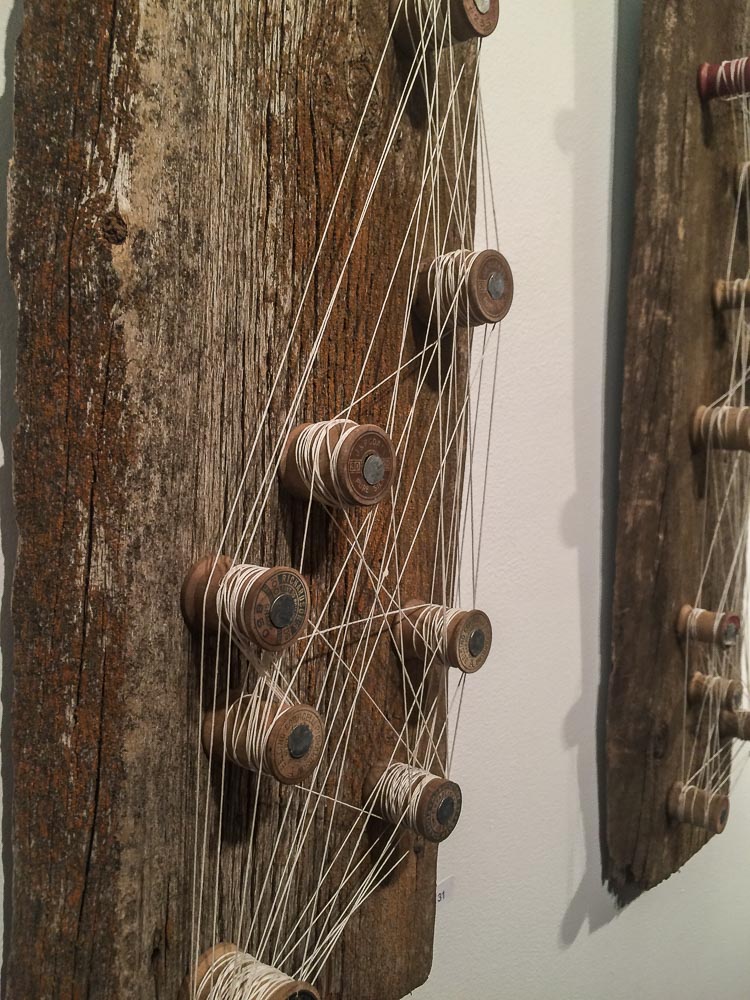 Lauren Walling
"Dead Horse Bay"
Dead Horse Bay is a small inlet in Brooklyn between Barren Island and Gerritsen  Inlet.  Used for a variety of purposes over the years, it was best known as the home of the largest horse rendering plant established in the 1800's and lasting until the invention of the automobile in the early 1900's.  In addition serving as the final resting place to dead animals, Dead Horse Bay was used as a landfill until the 1930's.  It was capped off at that point due to the volume of debris until the tide eventually worn down the lid in 1956.  Since then, and only at low tide, the beach is a graveyard of beautiful glass, automobile parts and horse bones.  These two pieces contain found objects I discovered on a salty sea walk in 2011.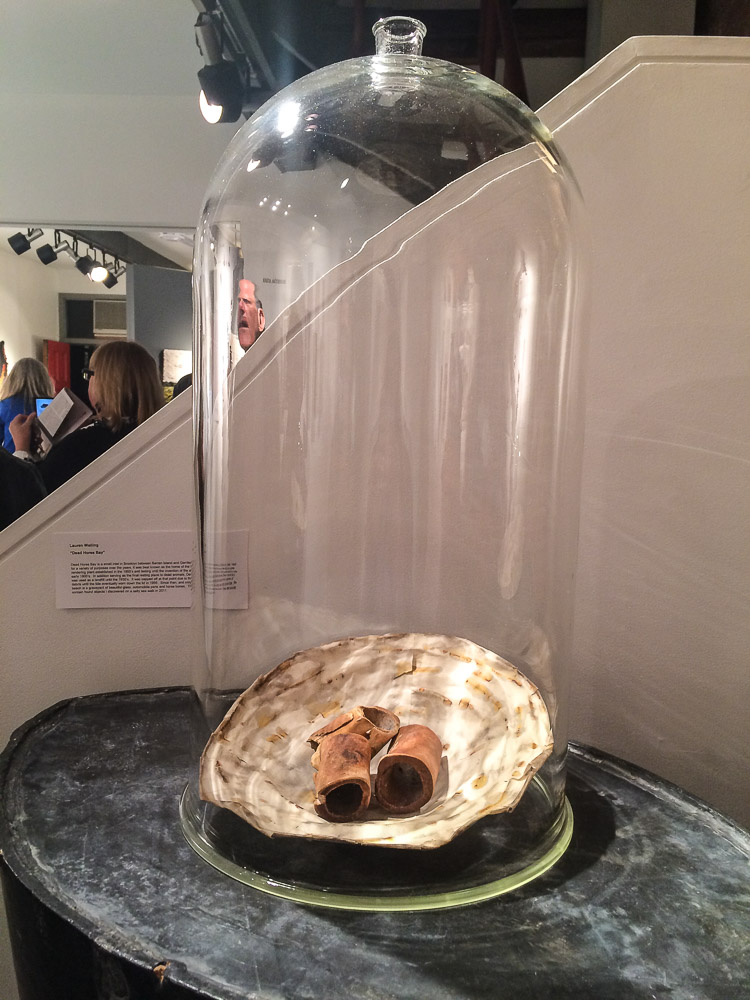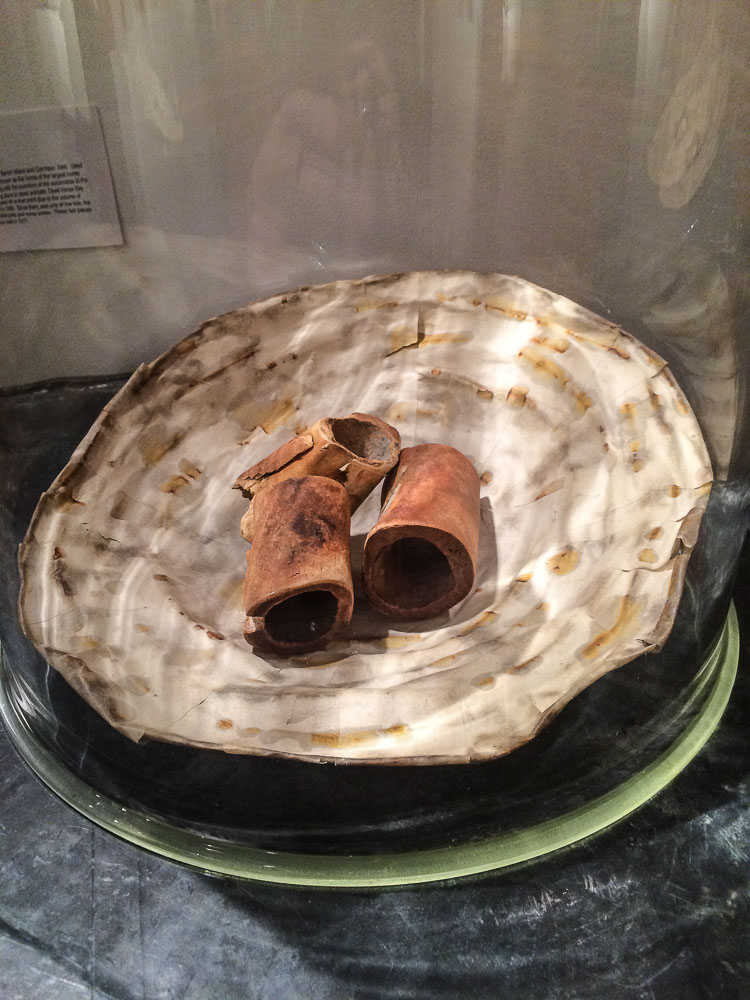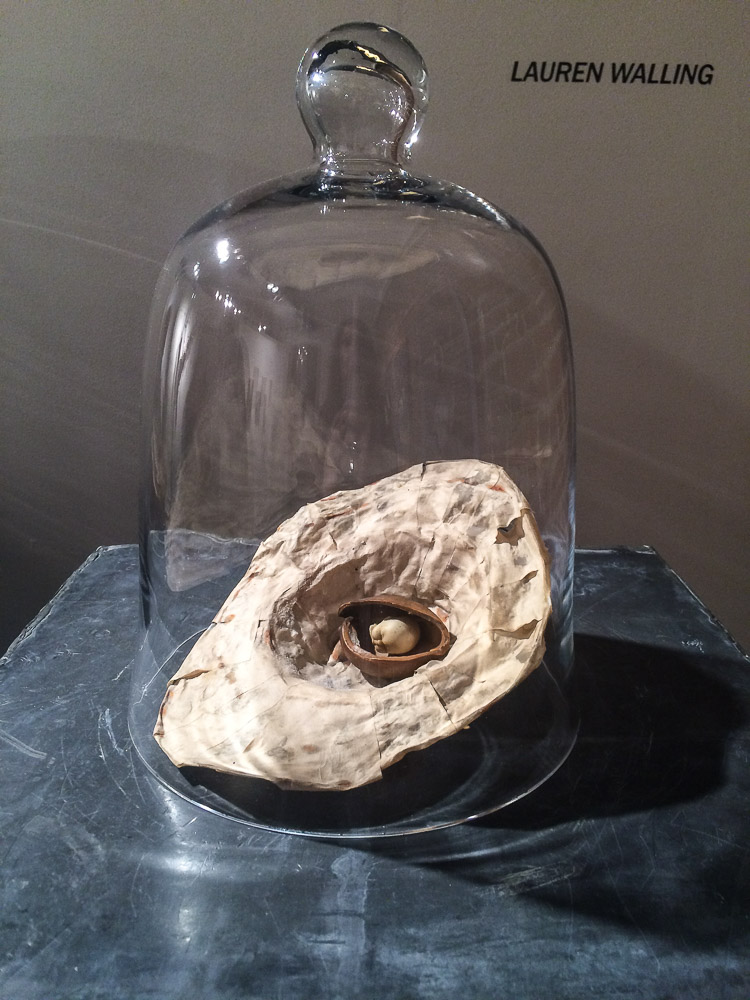 Anita Jacobson
Lady of the Rocks
I was walking on the beach and found this piece of driftwood which looked to me like a woman's head and body so I thought it appropriate to create a sea environment for her using moss and molded carton to resemble rocks.
Detritus
This piece of bee comb cardboard was found by my cleaning lady on the sidewalk of NYC.  Instead of honey, I've filled the honey combs with organic and inorganic objects that might have found a home there.  The copper pieces were discards from a jewelery class…the red scarf is a torn piece from a scarf worn by Patti Lepone in the NY Philharmonic's production of Sweeney Todd.  It felt to me as though someone had passed by and a piece got caught and was torn off.
Tube Spider
These tubes were being discarded as left overs from a plastics store.  I filled them with color using strips of paper, chain pulls, nails and whatever else that would fit inside.  The tail is old dress pattern paper around a rubber tube.  I decided to weave the tubes attaching them with wire…the piece evolved into a creature.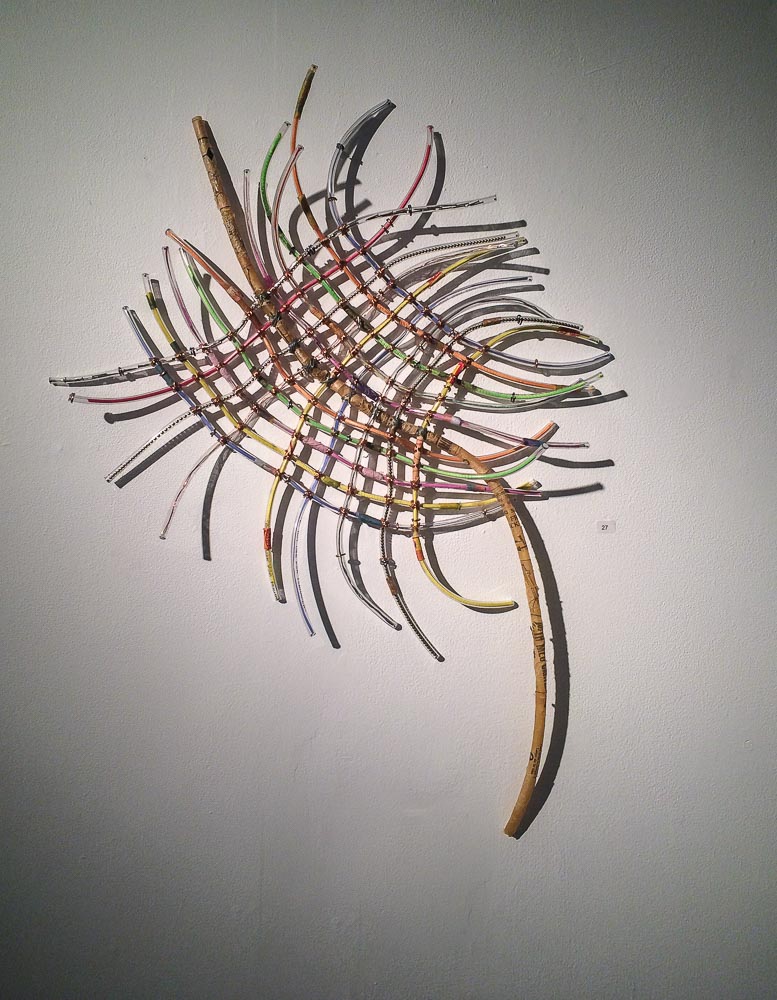 Jaynie Crimmins
The back gallery exhibits works formed from found or recycled objects.  Included is works by artist Jaynie Crimmins in "Shreds" as she explores issues of cultural engagement –  societal conventions including beliefs, behaviors, values, goals.   Her household mail in the form of catalogs, letters, financial statements and solicitations arrive with it's own narrative about why it is being mailed.
Sewing the shreds to one another constructs discrete units.  Using these as a medium she draws, paints and sculpts in space.  Her forms obscure and become home to information about how one is perceived by society while representing their personal participation in it.
Crimmins' work has been included in shows at the Zuckerman Museum of Art, the Alexandria Museum of Art, Oglethorpe University Museum of Art, and Georgia Tech's Ferst Center Art Gallery.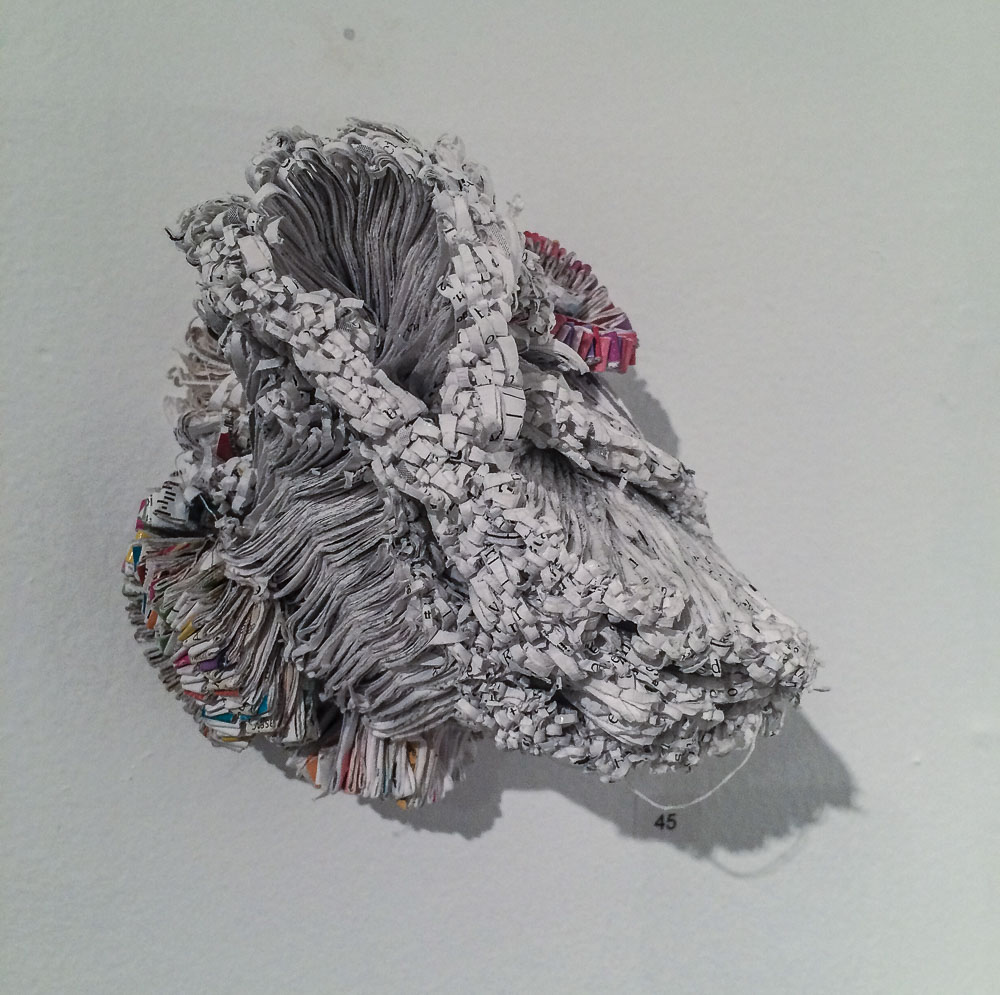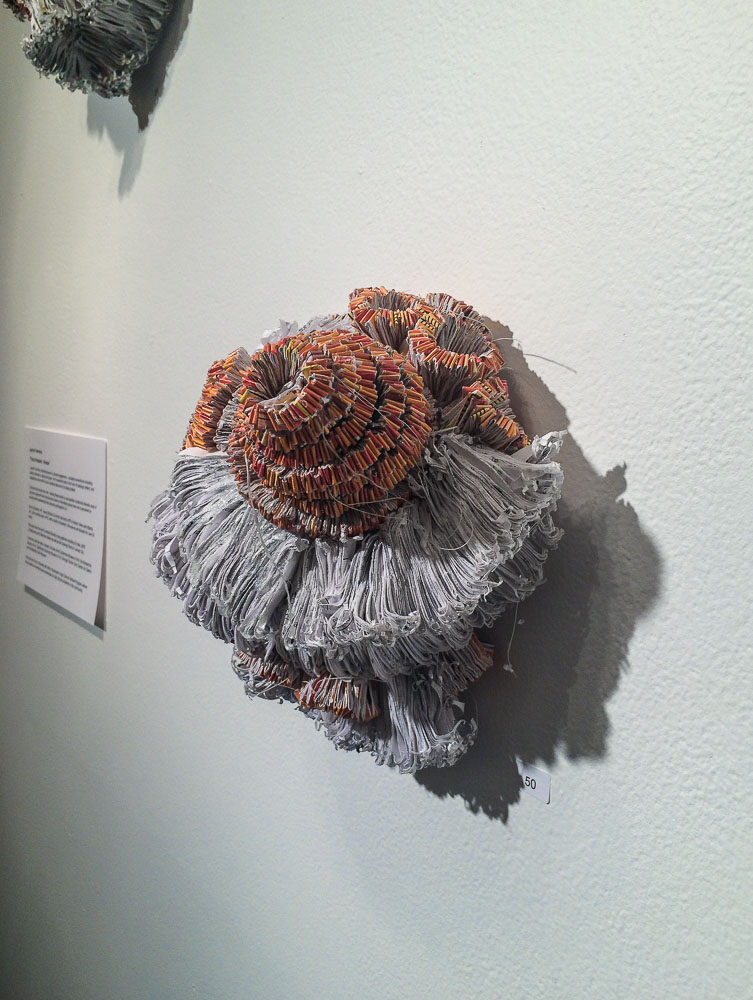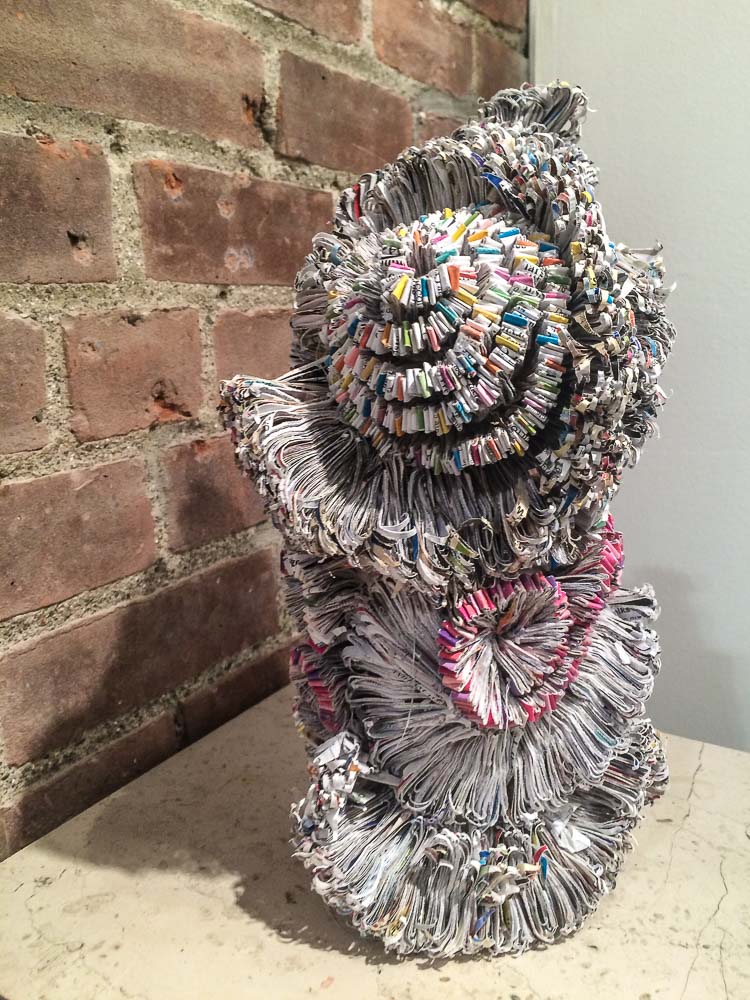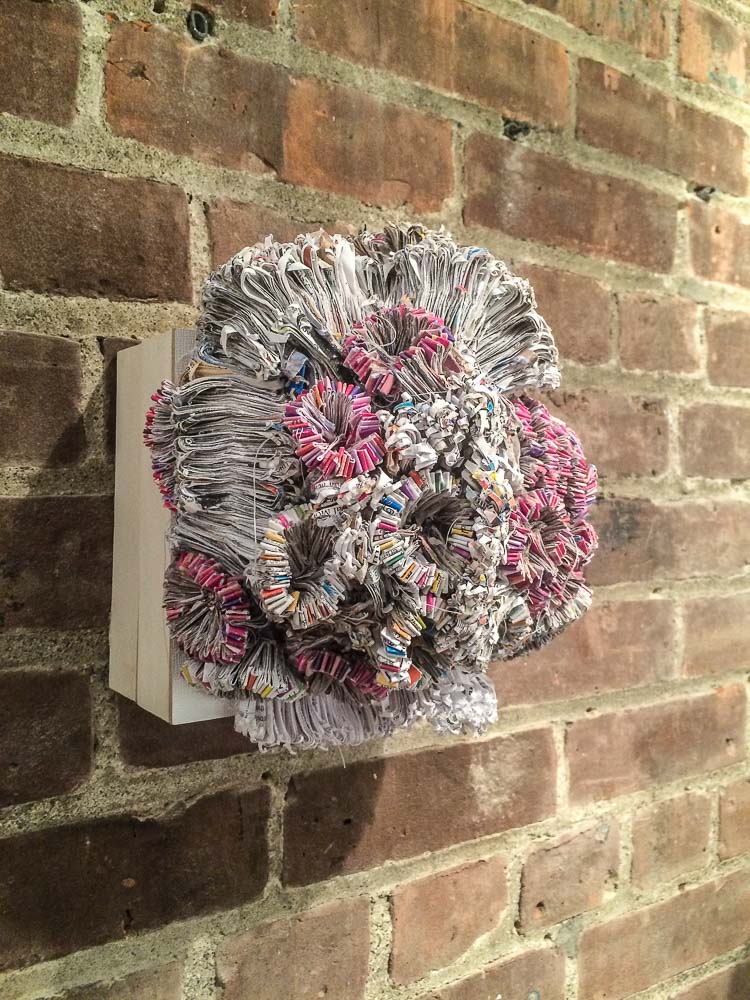 Die Ausstellung "That's Rubbish- Shreds" ist inzwischen beendet. Ein Besuch der Gallery 66 lohnt sich aber definitiv.
is located at 66 Main Street, Cold Spring, NY. 
Regular gallery hours are 12-6, Thursdays thru Sundays or by appointment.