Diese Veranstaltung hat bereits stattgefunden.
OUTSIDE THE CAVE – FEMALOSION im HilbertRaum.
25. Februar 2022

-

6. März 2022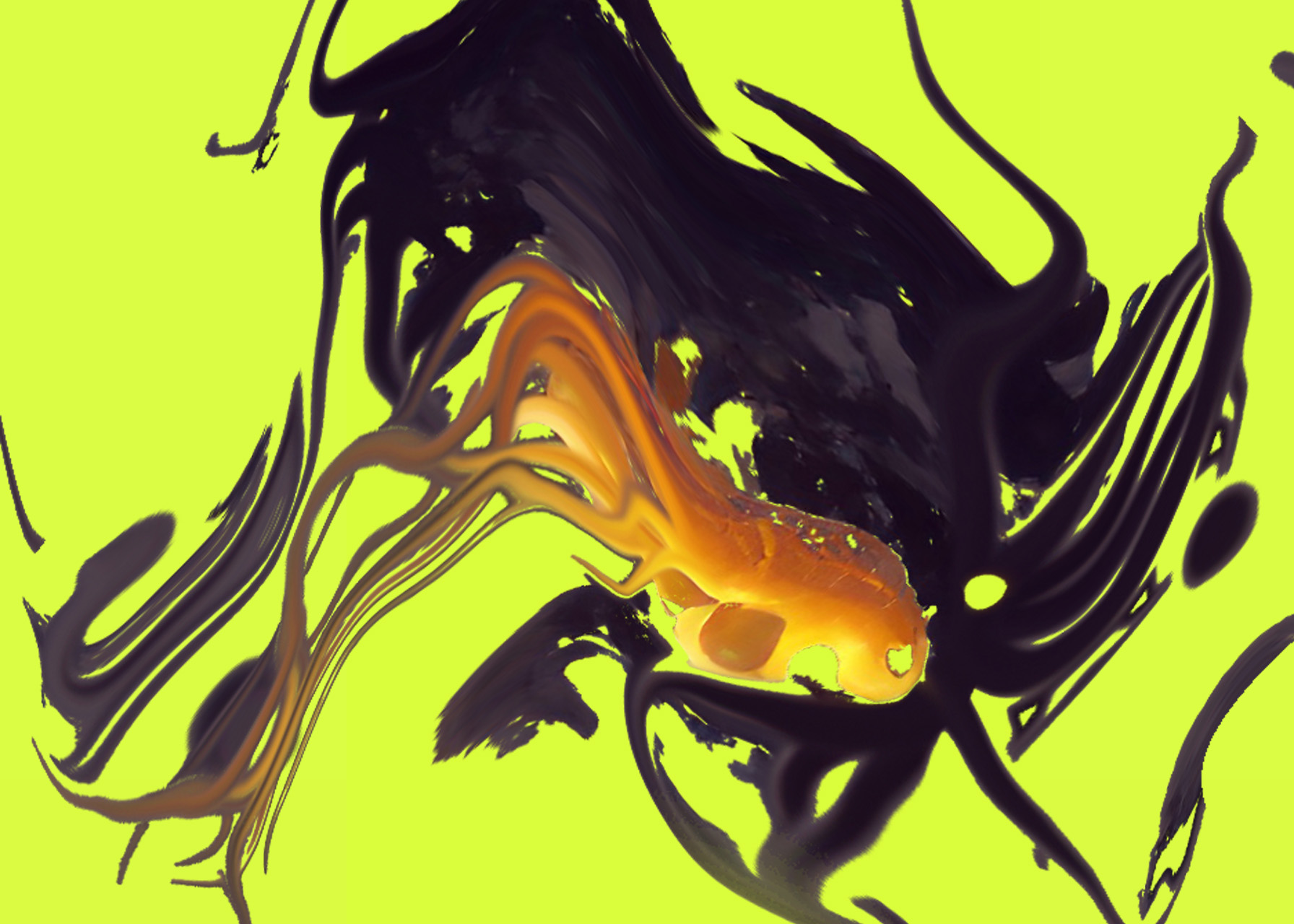 What are the dimensions of human thought? Is it possible for humanity to comprehend its own cognitive limits? And, if that's the case, what exists beyond the threshold of our understanding? Perhaps dreams, affect and fantasy offer us a path forward into the unknown. As our models of the future suggest the necessity of increasingly fundamental transformations in the present, it becomes urgently clear that we must develop new narratives and forms of coexistence. These concerns take center stage in the work of Patricia Detmering and Annika Stoll; their exhibition "outside the cave – femalosion" presents an ecological gestalt that is distinctly feminist in character. Respectively adopting the salamander and octopus as their symbolic familiars, the artists embody their theoretical approaches to develop a dialogue between texts, timelines, and species.
The octopus, an invertebrate, gelatinous cephalopod, is creative and highly intelligent, capable of dreams, play and learning. Each of its tentacles is able to think and feel independently. It simultaneously encounters and transforms the world through these tentacles; for the octopus, the dialectic between mind and hand, thought and action as experienced by humans doesn't exist. Perhaps we need to develop 'tentacles' of our own in order to better confront the fundamentally unstable membrane between self and world, to look more sensitively at our environment and make contact with each other.
Long a source of fascination for the would-be scientists of history, the salamander was once imagined to be the offspring of dragons and serpents, a creature born from fire. In fact, reality is even stranger than fairy tales: note, for instance, its ability to secrete poison from the spots that cover its skin. Even more extraordinary is its reproductive cycle: research has shown that female salamanders can store their fertilised eggs for years and give birth to their young at a time and place of their choosing. What new bio-political possibilities might emerge as humans gain such a degree of reproductive self-determination?
Weaving together biology and folklore, Detmering and Stoll create a space to explore new, speculative feminisms, grounded and developed with experimentation, research and lived experience. Through their intervention, the art space becomes a laboratory, a staging ground from which new potentialities might take root and flourish.
patriciadetmering.com
annikastoll.de