Diese Veranstaltung hat bereits stattgefunden.
VITALISTIC FANTASIES
30. November 2019

-

17. Januar 2020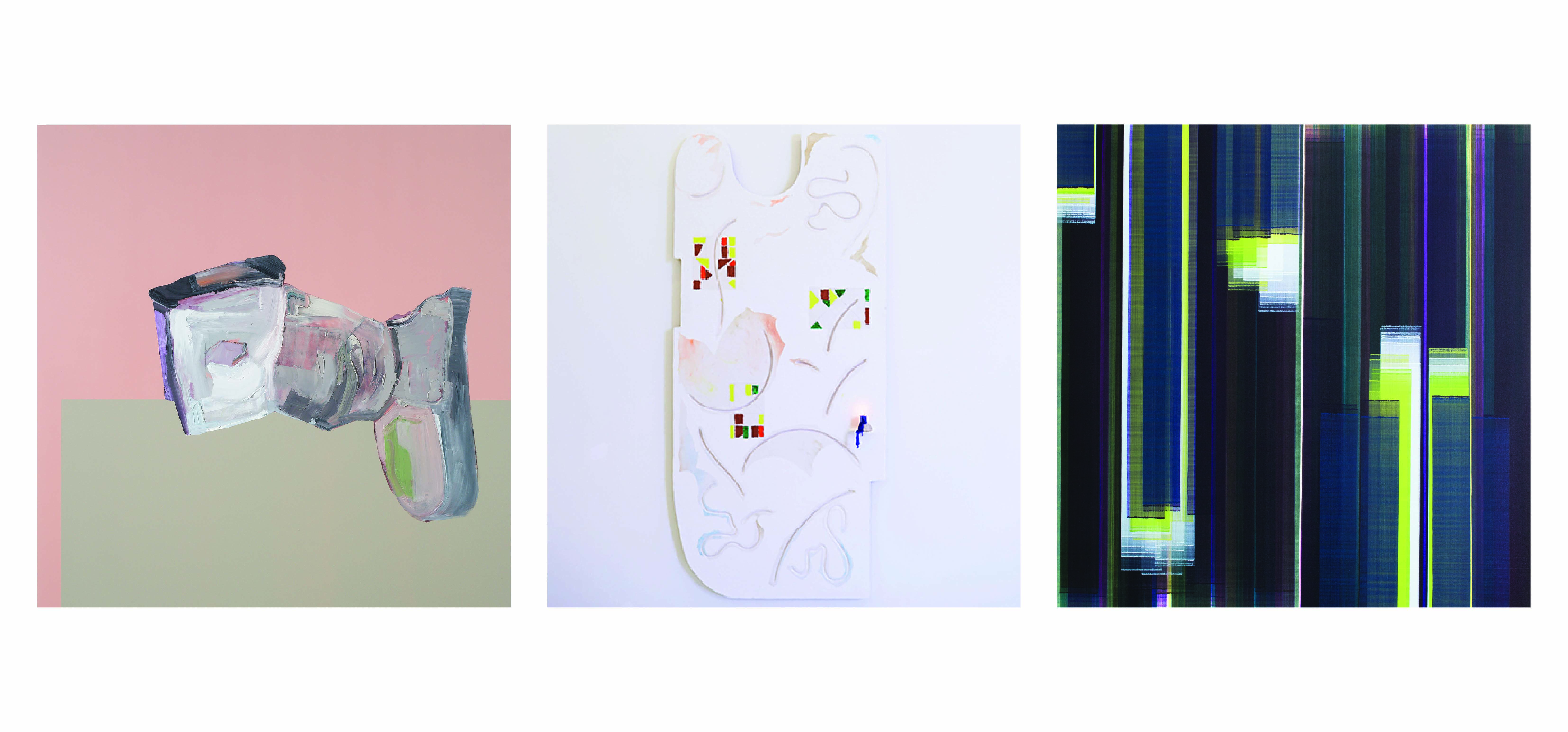 Gisele Camargo I Jonas Schoeneberg I Elisabeth Sonneck
The exhibition "Vitalistic Fantasies", named after Isabelle Graw's book The Love of Painting, uses the title's poetic and subjective qualities to create a space where contemporary abstract paintings are placed in dialogue with the viewer, with each other and finally as a living system of sorts. In this set up, the viewer is once again an active participant in the painting, whilst interpreting and negotiating its ways of being.
The exhibition includes works by three artists, all works illustrate their recent career developments and distinctive approaches to abstract painting, technique and surface. Gisele Camargo's career started in the 1990's in Rio de Janeiro. In 2018, the artist relocated her studio and home to the natural reserve of Cipó, situated in the outskirts of Belo Horizonte. Stones, erosions and flora all become departure points for her elaborated abstract constructions which resonate with nature, the environment and their power. Considering current affairs and climate change emergency, being in Cipó (itself one of the endangered sites in Brazil), she reduces the distance between the urban and rural, the landscape's material existence and the painting as a landscape itself.
Elisabeth Sonneck's most recent series of paintings follow elegant rules created by the artist, all related to her own body's reach and mobility. The paint application occurs in one long brushstroke, this process being repeated throughout the surface with different intensities and colours. In the last decade, Sonneck has also developed her paper painting sculptural pieces. In her compositions, diverse tonalities and colour combinations are used to bring dynamism and harmony in the form of abstraction and unsettled shapes.
Jonas Schoeneberg's artistic practice focuses on painting, sculpture and architecture. His pieces are constructions that use plaster, pigments and a painting technique created by the artist himself in his studio. By combining these elements and interests, Schoeneberg's paintings play visual games with the eye and the historic memory of painting. In his later artworks, outside elements, such as smaller sculptures, candles and organic material are brought into the composition to once again, to challenge the limitations of the painting as only surface.
Kang Contemporary is pleased to announce the exhibition:
VITALISTIC FANTASIES curated by Brunno Silva
GISELE CARMAGO, JONAS SCHOENEBERG, ELISABETH SONNECK
OPENING RECEPTION
 FRIDAY, NOVEMBER 29, 2019 um 19 Uhr
November 30, 2019 – January 17, 2020
Tue-Sat: 2-6pm and by appointment